Every day, legislative and regulatory authorities make decisions which determine the context in which companies, investor schemes and industry and professional associations operate.
Beyond Traditional Lobbying
Traditional -access to only a few- lobbying is no longer adequate for successfully navigating today's complex policy and regulatory environments, as political scandals, inquisitive journalism, disruptive social media platforms and vocal pressure groups and NGO's all have profoundly transformed the ways of influencing political decision-making.
We, at effectus, are Insightful Strategists, designing and executing integrated public affairs campaigns that utilize the full array of tactics in order to secure that our clients policy concerns are fully acknowledged and seriously taken into consideration at national, regional and city levels.
Having worked for Ministers, MP's and government agencies, we use our team's extensive network, vast experience and deep knowledge of the Greek political process and dynamics to successfully promote our client's policy and business objectives.
Relationships to Impact
We tackle every project using IMPACT ™, our proprietary, result-oriented approach, developed from years of delivering effective solutions.
IMPACT ™ unleashes the value-generating power of relationships, by combining it with valid intelligence, innovative thinking, in-depth sectoral expertise, targeted strategies and deeply-rooted ethics.
The Three A's
At effectus, we:
Anticipate upcoming policy trends,
Advise clients on the right engagement strategies and
Advocate for positive change by our clients' side or on their behalf.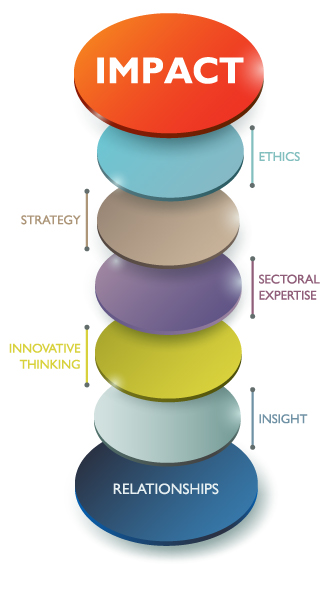 We're designing and leading comprehensive public affairs campaigns that combine a wide spectrum of services, including:
Policy Monitoring
We are the eyes and the ears of our clients. We closely track developments at all levels of government and provide relevant insights and analysis.
Thus, we ensure our clients are kept up to speed and well-prepared to advance their interests by proactively responding to emerging policy opportunities or risks.
Stakeholder Mapping
We identify key stakeholders and the people or groups that influence them.
We also equip our clients with detailed profiles of all engagement targets, tracking relationship dynamics, perceptions, motives and positions, in order to empower engagement efforts.
Strategic Counsel &
Engagement Planning
We advise our clients on who are the right stakeholders to target, which are the most persuasive messages they can use to better communicate their case and how and when they should engage them.
We then develop a tailored-made engagement plan for each of our clients, with measurable goals, prioritized actions and precise and realistic timetables for action.
We also assist our clients in preparing persuasive, targeted advocacy material that consistently promote their strategic goals.
Public Awareness &
Mobilization Initiatives
Using the full set of communications tactics, we build public recognition of our clients' legitimate policy concerns, thus triggering public action to encourage policy-makers to bring about positive change.
We engage grassroots, local communities and special interest groups with a genuine belief in the power of dialogue, consultation and education.
Media Relations
As media play a critical role in shaping the context for political decision-making, we proactively leverage our long-cultivated relationships with key media influencers while assisting our clients in building their own, in order to set the agenda and ensure their concerns or causes get across well and catch the attention of policy-makers.
Direct Lobbying
We are always out there to support our clients' engagement efforts.
We don't just set up meetings, but help lay the foundations for successful engagement by pre-briefing clients, attending meetings by their side, following up and never seizing to initiate win-win solutions.
We also advocate on our clients' behalf if and when asked to.
Digital Advocacy
Drawing upon state-of-the art knowhow and best practices from our international network,we are redefining advocacy for a brave new digital world.
We leverage the benefits of virtual engagement to further empower our clients' advocacy efforts.
Traditional strategies and evidence-based arguments are combined with digital and social media tools, enabling our clients to captivate hearts and minds like never before.