Message from our Managing Partner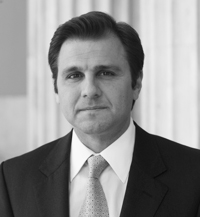 This year, our firm celebrates ten years of continuous presence in the Greek and international public affairs scene.
A decade of hard work, in service of our mission to build a common ground between business interests, policy-makers' priorities and society needs, thus promoting democracy and facilitating inclusive economic growth.
This has definitely not been a stroll in the park.
Despite the many challenges we have faced – from the Greek economic meltdown to the pandemic- we have managed to achieve a lot.
We have grown our team and have been vetted to become the Greek partner of the largest network of independent public affairs firms in the world.
Above all, we have been fortunate to serve several leading, multinational and Greek companies and associations.
We face this important ten-year milestone with the will and strength to achieve much more.
Undoubtedly, we still have big domestic and international challenges in front of us: a war in Europe, an active threat of invasion from Turkey for us Greeks, energy insecurity and the predicted recession of the global economy.
Nevertheless, we are determined to do what we know to do best:
Fight our way through the storm and always move FORWARD!
We have, therefore, changed our name to effectus, to better reflect the fast-evolving public affairs practice trends.
At the same time, we continue investing in further strengthening our team, since experience, talent and ethics are the foundations of every successful firm in our field.
In addition, we have concluded the relocation to our new offices, in order to provide a more pleasant working space for our people, one which forges the bonds between our team members and authentically expresses our corporate culture. 
There is, however, one thing that we don't change and that is our unique characteristics that have secured our success so far:
– Our partner level commitment to the everyday servicing of our clients' needs.
– Our zestful persistence in achieving tangible results for our clients, never settling for a "no", or hesitating in front of temporarily closed doors.
– Our non-negotiable dedication to transparency and ethics.
So, here is to a bright new decade ahead, one in which we are looking forward to the continued trust and cooperation of our clients and partner firms, for which we are grateful.
Ioannis Kofinis