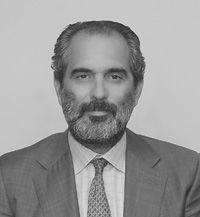 John G. Enepekides
Partner
John breathes stakeholder engagement.
He brings in extensive engagement experience, having spent countless hours at policy makers' offices advancing client interests. He engages across the ladder of hierarchy, with a unique ability to swiftly profile personalities, prioritize needs and accumulate intelligence, while setting up the environment for a working relationship.
He is considered a top-tier lobbyist in highly-regulated sectors, such as healthcare, aviation and security & defense, with an impressive track record of successful projects in public policy change, crisis management and procurement.
He gained extensive experience while serving as Director of Public Affairs for Burson-Marsteller (Advocate/ Athens), where – among other projects – he was summoned to handle Siemens Hellas' reputational crisis; at the same time, he has been the favorite consultant to major healthcare distributors (ie. Coloplast AS), setting the regulatory framework to defend and increase market shares.
He is holding a record for negotiating – for ten (10) years in a row, the reimbursement list of medical devices and services, offered by the National Organization for the Provision of Health Services (E.O.P.Y.Y.).
He has been cleared by at two global aerospace companies as a channel partner for Greece; he is currently working on procurement programs with the Hellenic Coast Guard, introducing systems that carry an Artificial Intelligence backbone, among other projects.
He is an elected member of the Board of Directors of the American-Hellenic Chamber of Commerce, while serving on the Board of Directors of the Ecali Club.
He holds a Bachelor of Science in Mechanical Engineering (Tufts University), a post Graduate Diploma in Manufacturing Engineering (University of Warwick) and a Masters in Business Administration (ALBA Business Graduate School).